Welcome to Alabama Art Casting
We are a 501(c)(3) nonprofit arts and education organization, devoted to educating the public about traditional and modern methods of pattern/mold making and iron casting processes.
in 2003 we established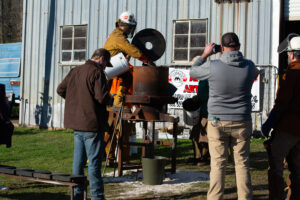 facilities for foundry work and fabrication in Eutaw, AL. This site has welding, woodworking, and foundry equipment and accomodations for visiting artists and residencies. If you are looking for a place to make art, inquire as to prices and scheduling.
The group has been in operation at Tannehill I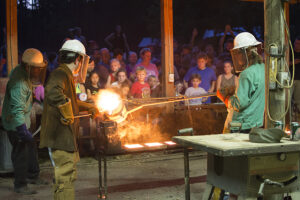 ronworks Historic State Park in McCalla, AL since 1999. We maintain an active art foundry there, presenting introductory and advanced mold making workshops and our popular "Sparks in the Dark" nighttime iron casting demonstrations during the spring and fall months.
Have Furnace Will Travel
Are you planning a festival, conference, or other event? Let us share our art and craftsmanship with your community or organization. Alabama Art Casting can conduct a workshop or casting demonstration at nearly any location. We provide a completely portable mini foundry with a cupola furnace staffed by a professional artist pour crew. We customize reservations to meet your needs. Booking details are available upon request.
To find out more about our organization, donate materials, services or funds; discuss an event booking; or artist residency, please contact us.